Buyer's Guide to Electric Random Orbital Sanders
When it's time to sand woodwork, walls, furniture, metal or other objects, there's a variety of options. Choices include completing sanding projects by hand or using a battery-operated pneumatic sander or an electric sander. Most people prefer power tools for sanding because sanding by hand can be slow and tedious. Even so, some projects require brute force and hand sanding.
Pneumatic sanders don't have a motor, which means the tool is lighter and quieter. Pneumatic sanders also cost less than their electric counterparts, but they require a big air compressor because its repeated cycles quickly burn out a smaller unit. One of the biggest disadvantages of using a pneumatic sander is that most units don't have a dust connector attachment.
For most jobs, an electric sander makes the most sense. Power or electric sanders have a motor that energizes the sanding head that contains a sleeve, sanding pad and belt. The motor causes the sandpaper to move against the surface of the work. A power hand sander allows you to complete a sanding task faster. Jobs that would normally take hours to complete by hand can be finished within a matter of minutes with an electric sander.
This electric sanders guide provides a comprehensive overview about electric sanders. You will learn about the most common types of electric sanders, how to use them and tips that will help you achieve optimal results.
Primary Types of Electric Sanders
The machine you select should depend on the project. It's important to choose a sander that will deliver excellent results with minimal effort.
Disk Sanders
This sander consists of a pad or disk that functions as a support for a circular-shaped piece of abrasive or sandpaper. The backing pad has a bolt and large washer that goes to the center of the disc, or a gum-like adhesive that holds the sandpaper in place.
The most common disk sander handymen and DIYs use consists of a sanding disk attachment, which fits into a standard electric drill. The problem with this setup is that the average electric drill doesn't rotate at the high speeds required for sanding projects. In addition, a sanding disk attachment can quickly burn out the drill's bearings because most drills lack the capacity for the twisting action or side-thrust action generated by electric sanders.
Don't use a disk sander on doors, furniture, cabinets or flat wood trim, whether on the interior or exterior, because it's difficult to control on flat surfaces. In addition, disk sanders are known to dig into the wood and create swirls and circular gouges on the work surface. Home disk sanders should be used for rough jobs such as sanding off peeling paint or drywall.
Electric Random Orbital Sanders
The random-orbital sander has a round, abrasive pad that moves in small circles or random "orbits." Random- orbital sanders, which sand in any direction, have great versatility because they can handle general projects ranging from rough to finish sanding. They also allow you to sand in any direction.
This type of sander usually has a one-handed, palm-grip configuration. Some random-orbit sanders use pressure sensitive adhesive (PSA) abrasive discs, which cost less. Other models accept the hook-and-loop or Velcro discs that can be reused and are easy to change.
Often referred to as quarter-sheet sanders, orbital finishing sanders are light, easily controllable and quiet. Orbital finishing sanders make the best choice for most beginners because they're less likely to damage the wood. These sanders will not suffice when the job requires heavy removal of stock materials, but they work fine for smooth wood sanding, removing sharp edges and sanding down dry varnish or paint.
Other options for sanders that rely on orbital action include two specialty machines: profile sanders and detailed sanders. Profile sanders are made for carvings, moldings and other precision-shaped surfaces. Detailed sanders have a triangular-shaped pad that allows you to sand in corners and other tight surface areas.
Brands We Trust
portable or stationary models, are quick and easy to use for achieving the desired shape and finish. Materials such as plastic, metal and wood can be sanded with minimal effort. Belt sanders can create round edges and smooth corners or can remove burns and paint from surfaces.
Handheld belt sanders make it possible to sand non-movable surfaces and hardwood floors. The stationary models, sometimes called bench sanders, mount on a table or workbench and allow you to bring objects close to the machine for sanding. If you sand against the grain, a belt sander can create scratches or marks on the surface. If you sand in an area too long, the machine will create a low spot.
Some manufacturers combine the belt sander with a round disk sander to create a compact tabletop machine. You can adjust the belt sander vertically, horizontally and at various angles. This flexibility enables you to sand long, wide stock. The disc sander has a diameter of six to 10 inches and can sand square and curved surfaces.
The Differences Between Different Type of Sanders
There are quite a lot of sanders out there for a variety of different purposes. It can be difficult to distinguish between different kinds to learn which would be best for your needs.
If you or your company are planning to take on sanding projects but your experience in the field is a little light, don't worry. National Abrasives, Inc., a central Pennsylvania abrasive company that has over 20 years of experience, is happy to provide you with some insight into different kinds of sanding mechanisms. We believe this will help you better understand which tool is the right choice for the job at hand.
Let's take a look at some of the distinctions between electric sanding tools and learn how Mirka-brand sanders can help fill your company's needs.
What Is the Difference Between Random Orbital and Dual Action Sanders?
Electric random orbital sanders are a great option for folks just getting into using abrasives due to their versatility. They utilize round, disc-sanding plates that combine rotary motion with orbital motion. This reduces the likelihood of your surface being marked up, making a random orbital sander a better choice than using a standard belt sander should you need to preserve the surface you're working on.
A dual action sander is similar to a random orbital sander in that it combines two motions, rotary and orbital. However, a dual action sander utilizes forced motion, whereas a random orbital sander employs rotational momentum. This lends to steadier patterning than a random orbital unit but generates more heat, which you should be mindful of during the course of your project.
What Is the Difference Between a Random Orbital Sander and a Palm Sander?
Now that we've established how a random orbital sander works, let's contrast it with an electric palm sander. Palm sanders, also known as finishing sanders, work in a more typical orbital fashion, utilizing small circular motions. They are excellent for touchups and light sanding duty but aren't very powerful, thus shouldn't be used for heavy-duty sanding jobs.
Similarly, if you're curious about the difference between an orbital sander and a finishing sander, generally there isn't much of a divide between the two. A finishing sander can utilize orbital motion.
Mirka Electric Sanders: A Great Choice for Your Sanding Projects
Mirka Deros electric orbital sanders and Mirka Deros electric sanders are durable, efficient tools available through National Abrasives, Inc. Deros units have set the industry standard for sanding products. They employ brushless motors for minimal maintenance and do not need an external power source to be used. They are available in multiple orbits and sizes to match your sanding needs.
Buying an Electric Orbital Sander
Every sander – hand, pneumatic and electric – performs the same task. They use abrasives to remove unnecessary material from the surface of an object. However, electric orbital sanders differ in the way that they operate.

The random-orbit sander provides multiple uses. For DIY projects, the optimum choice may be a 5-inch electric random orbital sander. Serious woodworkers choose the 6-inch electric random orbital sander, which has a more powerful motor, provides nearly 45 percent more abrasive surface and will complete the job fast. This model presents more of a challenge to control when sanding narrow or vertical pieces, and it's two to three times more expensive than the smaller version. There is also a 3-inch electric random orbital sander option for small hard to get places.
The length of the sanding stroke determines the speed of a sander. The speed on some random-orbit sanders ranges from 3,000 and 4,500 orbits per minute, and up to 10,000 orbits per minute. The shorter the stroke, the glossier the surface it creates. Some orbit sanders have a palm grip while other models have a two-handle configuration.
For heavy-duty jobs that require you to smooth out floors, decks or porches, we recommend a belt sander. Each manufacturer has its own technical specifications. Most belt sanders designed for consumers consist of handheld machines that have a few elements in common, including a motor, sanding belt, front and rear handles and a dust-collector attachment.
Some belt sanders have an adjustable motor speed, which allows you to perform smaller jobs and detailed surface work. Other elements you should consider when choosing an electric orbital sander include the motor power and a sanding belt. For most routine jobs, belt sizes of three inches by 18 inches, three inches by 21 inches and four inches by 24 inches will suffice. Belt speeds (expressed as surface feet per minute) range from 900 to 1,600.
When shopping for sanders, test different models to determine how the machine feels in your grasp. Some portable belt sanders offer flexibility that allows you to turn it upside down and operate it as a bench sander.
Utilized by metal workers, woodworkers and cabinetmakers for heavy-duty professional applications, the more expensive stationary belt sanders have a variety of belt sizes. Options include the following: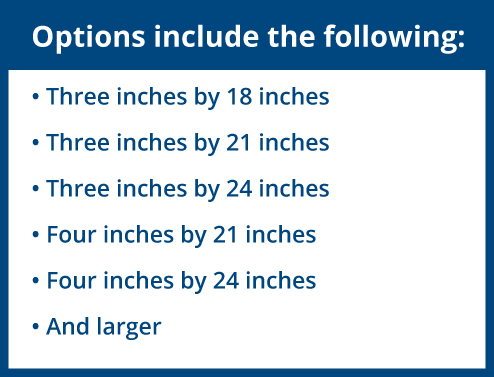 Besides speed and grip comfort, one of the other most important features of the sander is the dust collection system. It may consist of reusable canisters and hoses that attach to a vacuum or disposable bag. You should also compare other elements, such as trigger locks and pad brakes.
The trigger lock allows you to work without having to keep your finger on the power button. Brake pads refer to safeguards that protect the work surface when you lift the sander and bring it back down.
The key to a great finish lies in knowing how to utilize your sander to reduce the chance of damaging the work surface.
How to Use an Electric Sander – Disk Sander
It's very important to hold the disk sander so that the rim doesn't touch the work surface. Don't press the flat disk against the surface; keep it at an angle. Positioning can differ depending on the position of the work, the position of the sander in relation to the work, and the working angle. Try to contact the surface in a way that the disk faces away from you, which will prevent grit and dust from flying toward your face.
How to Use an Orbital Sander
An orbital sander works best on flat surfaces and straight edges. Similar to the approach when using a disk sander, avoid making the mistake of bearing down hard in an effort to make the machine remove the material faster. It actually has the opposite effect and causes the motor and pad to operate slower, but it could also cause the motor to overheat, resulting in damage.
Apply just enough pressure on the sander to keep the abrasive in solid contact with the work surface at all times. If you use too much pressure or speed, it creates tiny swirls, most of which you will not discover until you stain the wood. The key is to exercise patience and a light touch so you don't end up with swirls. Gently rest your hand on the machine without pressing, and move slowly across the surface.
Periodically, stop the machine to slap or brush out the dust from the sandpaper.
How to Use a Belt Sander
When operating a belt sander, you must work with extreme care because of the fast rate at which it removes material. This tool has a tendency to pull itself forward when it meets the work surface because of the momentum of the belt. Make sure you maintain a firm grip on the sander at all times, using both hands. Belt sanders work best on flat surface areas and straight edges only. You can also use it for other projects, such as the following:
Start the sander away from the surface and then bring it to the work surface. To shut the sander off, arc it upwards and away from the surface, and then turn it off.
General Sanding Tips
To maximize your sanding results, consider the following tips:
Use Premium Sandpaper
Purchase only high-quality abrasives, such as Abralon sanding discs or Q-Silver sanding discs. Better products may cost two or three times more than standard abrasive grits, but premium abrasives maintain sharpness longer and will save you lots of time and effort.
Go With the Grain
The first rule of sanding is to go with the grain. You can break this rule when you have a large area that has to be grinded off. In this case, wipe the belt sander across the area at a 45-degree angle. This technique is very fast. It will rip the wood fibers out instead of scratching away at the surface. You must be careful not to gouge the surface too deep. The method requires a significant amount of heavy sanding to smooth out the plow marks.
Know When to Stop Sanding
Oak, walnut and other open-grained woods have a rough texture and coarse grain lines. Opened-grained wood means you will not be able to sand the surface to a very fine grit.
Cherry, maple and other closed-grained woods have a smoother, consistent texture. You will have to sand this type of wood with higher grit abrasives before you can remove the sanding scratches. The type of finish also has a bearing on the point at which you should stop sanding.
Most professional woodworkers stop at 150-grit on open-grained woods and 180-grit on closed-grained woods when they apply varnish, lacquer and polyurethane. Oil finishes require a grit of 220 on open grain and 240 on closed.
Pre-Sand Stock Wood
Better organize your project and save time by sanding all boards with 80- or 100-grit abrasives prior to cutting or assembling them. Eliminate the need to repeatedly stop, start and setup. Remove milling marks, scratches and dents, which require the heaviest amount of sanding.
Choose the Right Sander for the Job
Choosing an electric sander that is right for the job assures you will sand the surface the right way. The actual purchase decision doesn't have to be a complicated task. It's simply a matter of knowing what electric sander will deliver the right smoothness of surface, so your woodworking and other projects will have a beautiful finish.
Buy Mirka Electric Orbital Sanders Online at National Abrasives, Inc.
Mirka is a world leader in abrasive technology, offering a diverse range of high-quality sanders and sanding systems. Mirka offers DEROS sanders, a leading line of electric sanders designed to be versatile to fit your needs. The brushless electric motor is designed to be powerful enough to maintain a constant speed under load while being virtually silent in operation. Choose from any of the options below to get more product details on our electric random orbital sanders from Mirka Abrasives.
Mirka 6-Inch DEROS 625X CV Sander
Mirka 6-Inch DEROS 650X CV Sander
Mirka 3-Inch DEOS 353 CV Sander
Mirka 3-Inch DEOS 383 CV Sander
Having a strong, reliable collection of high quality electric sanders is a necessity for anyone who works with wood — from the novice to the seasoned professional. Even if you're simply working around the house from time to time, you'll want to use a sander that brings a high quality finish to every project you undertake. And if you're a contractor, electric sanders help you stay on schedule, so you can finish jobs quickly without compromising on the quality of the finished project.
National Abrasives sells a variety of sanders that will surely fit your job.