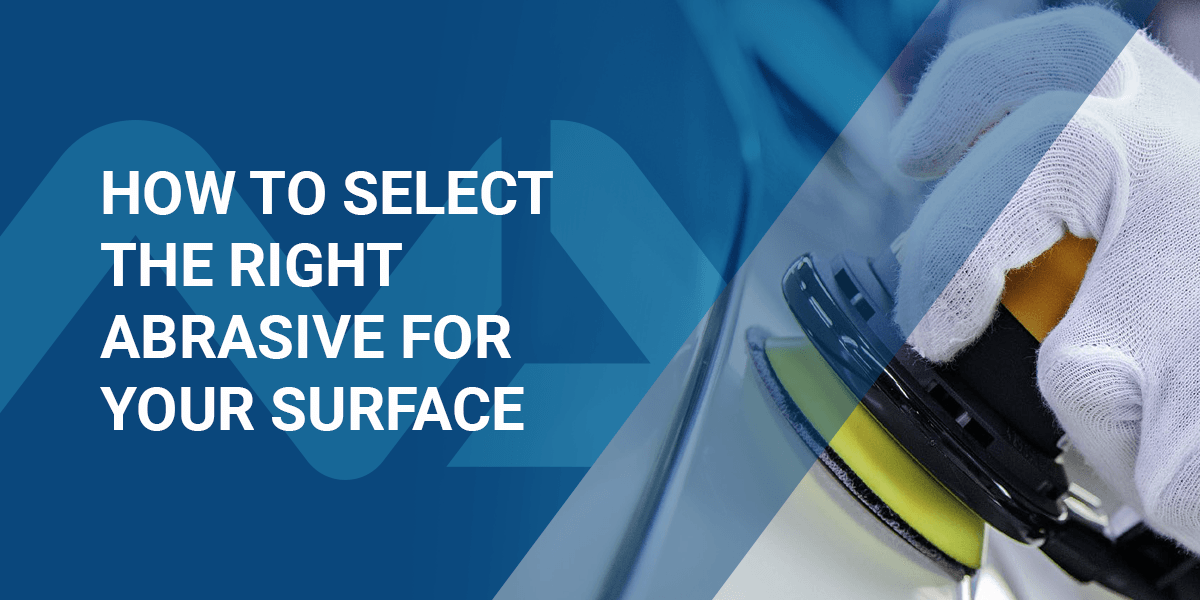 How to Select the Right Abrasive for Your Surface
It might seem like a minor consideration, but the abrasive you choose can make or break your project. We've created this guide to help walk you through the different factors that go into abrasives so you can make the best decision for your workplace.
Essential Factors to Consider When Choosing an Abrasive
Choosing an abrasive that will meet your projects' goals is essential. Consider some of the main variables that influence abrasive purchases:
Hardness: Hardness refers to a mineral's resistance to being scratched. A mineral's hardness is measured using the Mohs scale of hardness. The higher the number on the Mohs scale, the harder the material. You'll want to use a softer abrasive for fine finishes and delicate surfaces. Harder abrasives are best for earlier phases like reshaping and removing corrosion and rust.
Friability: A mineral that is friable easily breaks down under pressure. Essentially, it's a measure of the mineral's durability. For example, hard grains that are friable can sharpen themselves because every time they break down, they expose a new sharp edge that allows them to keep cutting.
Shape: Some abrasives have rounded grains while others have sharper edges. While this may seem like a minor detail, it can significantly impact the finish. Additionally, the shape of the abrasive product is a crucial consideration. If you're sanding a complicated structure, you'll want something flexible like a sanding disc or a flap disc.
Recyclability: Recyclable abrasives will be more cost-effective than expendable abrasives because you will need to purchase new ones less often. However, you might prefer a disposable abrasive for quick changes.
Cost: Keep your budget in mind, as some abrasives are more expensive than others. However, you may need to replace specific abrasives more often than others, making higher-quality abrasives a more practical choice.
Surface profile: One abrasive will leave behind a different finish from another abrasive. It's important to keep this in mind for the later stages of your project when you want a cleaner finish.
Keep in mind that the interaction of different factors will change how each abrasive performs. For example, a soft abrasive that is highly friable will not sharpen itself, meaning that it will quickly become dull. This kind of abrasive will be best for more delicate projects like glass finishing and final sanding steps.
Types of Abrasive Grains
The abrasive grain you choose will directly influence the speed and quality of your job. Evaluating and choosing the correct abrasive for your surface will allow you to complete your projects more quickly while minimizing your abrasive usage volume. This can save you money and improve the quality of your products.
Some standard abrasive grains on the market include:
Aluminum oxide: Aluminum oxide is a granular abrasive with incredibly sharp edges. It's friable, so it breaks down under the heat and pressure produced during sanding. Essentially, as you sand, this abrasive sharpens itself. Due to its friability and toughness, aluminum oxide is a widespread abrasive across all applications and industries.
Silicon carbide: Silicon carbide has a tendency to macro-fracture, which means that it breaks into smaller pieces that continuously work to sharpen it. It wears out more quickly than aluminum oxide, but it also tends to be harder and sharper. You can find silicon carbide on many wet-dry sandpapers. It's best for non-metallic materials and nonferrous metals.
Garnet: Garnet is a granular material with rounded edges, which allows it to produce a smoother finish than aluminum oxide. However, garnet tends to wear out much faster than other abrasives.
Emery: Emery is a natural abrasive that combines aluminum oxide and a small amount of iron oxide. It's a flexible abrasive that is not very aggressive. It frequently comes with cloth backing.
Zirconia alumina: Zirconia is an industrial-grade abrasive alloy made from zirconium oxide and aluminum oxide. It has a long life because it can handle fast cutting speeds under heavy stress. It's also good at dissipating heat, which allows the grain to stay sharper for longer than most others.
Ceramic: Ceramic abrasives are the most aggressive abrasives you'll use. For this reason, they're less prevalent and more pricey than other abrasives.
You also want to determine whether you would prefer a coated abrasive. There are three types of abrasive coatings — closed, open and semi-closed.
Closed: The grain on closed-coating abrasives is evenly spread across the surface with no gaps present.
Open: Open-coating abrasives only have grains spread across part of the backing, which reduces loading in lower grits.
Semi-closed: Semi-closed or semi-open coatings are a happy medium between closed and open. On average, they have a 30% grit reduction.
Similarly, choosing the right backing for your abrasive is crucial for ensuring a job well done. Each backing type can change the abrasive's effectiveness, even if you're using your preferred grain.
The most common backing types include:
Fiber: Fiber is the least flexible backing for abrasives. It's denser and harder than cloth, which makes it ideal for more rigid applications, like sanding flat surfaces or cutting away excess material.
Paper: The flexibility of paper backings can vary widely depending on the paper's weight and the abrasive's intended use. For example, abrasives for power tools will likely have a thicker paper backing than abrasives made for hand sanding.
Cloth: Cloth is generally more flexible than other backing types, but this characteristic can vary depending on the weight of the cloth.
If you're using a power tool like a random orbital sander or a grinding wheel, paying attention to your abrasive's backing and how it interacts with other machine components can significantly improve your job performance. Backings that combine one or more of the above characteristics are also available for certain applications.
Popular Abrasives for Each Surface
The materials you work with demand specific tools for best results. Here are some examples of commonly used abrasives for specific surfaces.
Wood
The most popular abrasive grain for woodworking applications is aluminum oxide due to its toughness and high friability. Garnet is another popular choice for light sanding and paint removal, especially for hand sanding jobs.
Open-coat aluminum oxide is best for softer woods such as pine and cedar, but you can use it for most woodworking projects. Closed-coat aluminum oxide or ceramic abrasives are better suited to harder woods like hickory.
Open-coat silicon carbide is helpful when it comes to removing material, as it prevents excessive heat generation when finishing resinous or stabilized woods. Silicon carbide is also helpful for sanding your metal tools when they become dull.
Zirconia is another abrasive good for general sanding applications, especially when you're beginning a project with a coarser grit. However, it doesn't fragment as well on wood as on metal, so you will not have the same friability as you would with aluminum oxide.
Usually, if you use ceramic in woodworking applications, you'll be limiting it to shaping or wood removal work using power tools. Ceramic's harsh nature means it will not create smooth surfaces, so it's best for the starting phases of a project. Once you finish that phase, it's best to switch to a softer abrasive.
Bowling Balls
The traditional way to resurface a bowling ball was to drop it off with a professional who would do the work for you. But now, you can save money and time by resurfacing your bowling ball yourself.
Generally, you want to choose a grit that will counteract the slickness or dryness of a typical lane — the more oily the lane, the lower the grit, and vice versa. But if you want a quick polish, it's best to stick to your manufacturer's recommended finish — check their website to find out what grit you should use. Our handy guide to bowling ball surface maintenance can answer your questions about the process.
Sanding discs with foam backings are great tools for sanding your bowling balls because they allow you to easily maneuver the abrasive along severe contours. Usually, these products come in various grits of silicon carbide or aluminum oxide, which are durable enough to sand a ball's surface without being too harsh. You can even use some for both wet and dry sanding, which is helpful if you use a ball spinner machine.
Metal
Metalworking applications often require more aggressive abrasives with little flexibility. Ceramic's ruggedness makes it ideal for removing heavy metals or jagged edges from a project. For less intense work, zirconia is the better option.
Weld smoothing is an excellent application for zirconia and aluminum oxide, but garnet is also a good choice.
Silicon carbide is good for wet metal cutting applications since it's often used on waterproof sandpaper. You can use water as the cutting lubricant. This application is best for nonferrous metals.
For metal polishing applications, you'll want to use emery. Its flexibility and softness make it perfect for delivering a fine finish at the end of any project.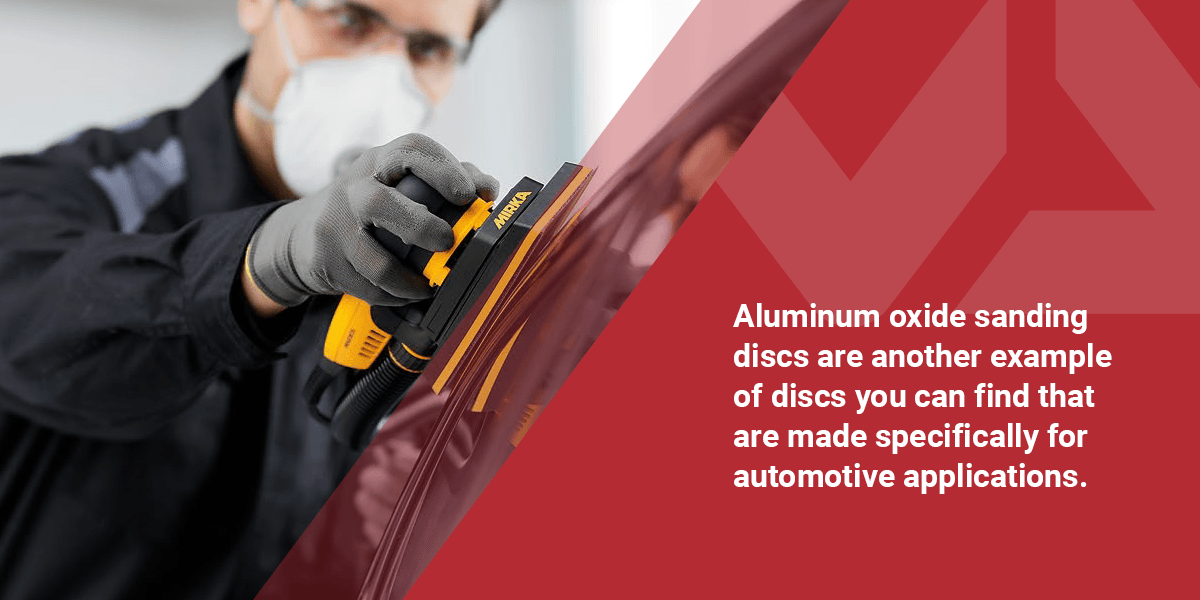 Automotive
Because auto bodywork involves maneuvering around many contours, choosing the right abrasive can be crucial to your final product.
Standard sandpaper is often used for auto bodywork, whether you're a hobbyist or a professional. However, the pros might prefer to use power tools and sanding blocks to ensure quick, clean work.
Aluminum oxide sanding discs are another example of discs you can find that are made specifically for automotive applications. Buffers and polishers are other popular tools in the automotive industry, as they allow you to effectively eliminate any scratches or surface flaws your project might have sustained from earlier sanding stages.
Aluminum
Aluminum is the most common metal on the planet. It's used in everything from electronics to food packaging, but it can be hard to use due to its low melting point.
The best grains for cutting and grinding aluminum include:
Aluminum oxide
Silicon carbide
Ceramic
Zirconia
Aggressive grains like ceramic and zirconia should be used with care, as many aluminum alloys are very soft.
The best methods for using abrasives on aluminum are using depressed-center wheels, fiber discs and flap discs. These devices allow for light, even pressure to maximize surface contact while minimizing load.
Tips for Choosing Abrasive Products
Once you have your grain formulation chosen, you need to determine the best method for using that abrasive on your surface. Employing a power tool can speed up your process significantly, but you want to make sure you have the necessary skill to use it.
Sandpaper
Classic sandpaper is useful for most applications, although the process is much slower than using a power tool. Pay attention to features like grain formula, grit and backing, as these will all affect how you use the paper.
Using a sanding block is helpful for most applications because it provides an even, consistent distribution of pressure along a surface.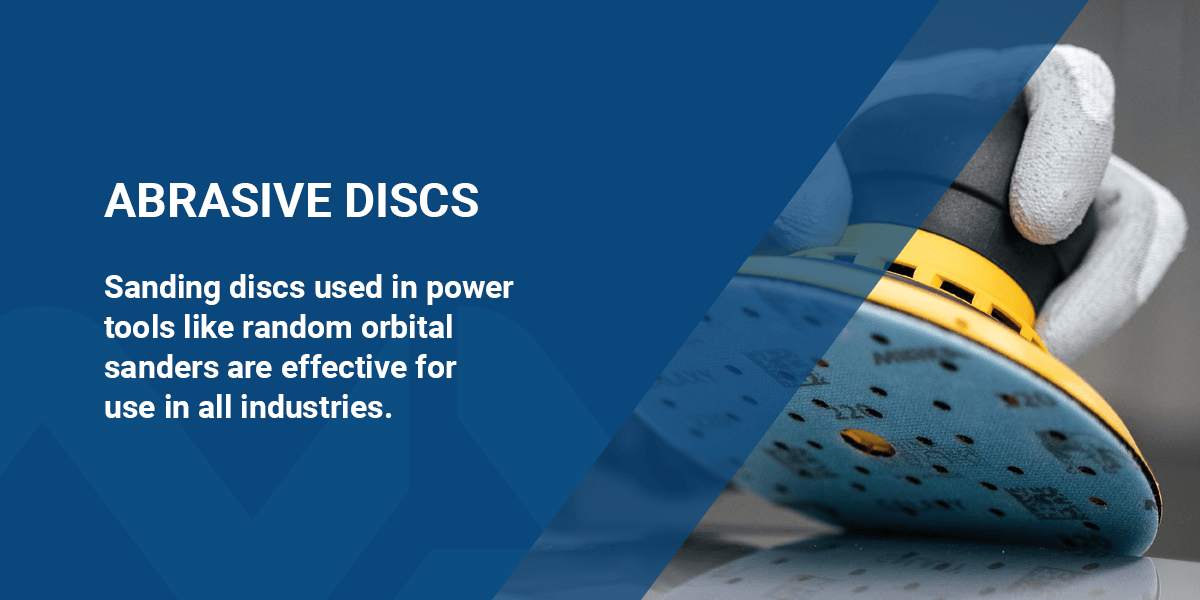 Abrasive Discs
Sanding discs used in power tools like random orbital sanders are effective for use in all industries. The most common types of abrasive discs include:
Pressure-sensitive adhesive (PSA): These discs have a sticky backing which allows you to quickly change them out when needed. They're best for longer jobs because they stay attached until the abrasive dulls out.
Hook and loop: These discs attach using a method similar to Velcro, making them easy to swap out without sacrificing a good finish. They're also available in a wide variety of grits, so you can easily build a full kit for your workplace.
Quick change: These discs are ideal for grinding and deburring applications on smaller surfaces.
Surface conditioning: These discs combine several grit progressions into one step, which can significantly reduce your process time.
Grinding Wheels
Grinding wheels are best for reshaping metal and other hard surfaces, but they're ineffective for fine detail work, as they leave behind a rough surface profile that will need further polishing. Grinding wheels come in several shapes, each of which is beneficial for different purposes.
Cutoff wheels are able to perform challenging grinding and cutting tasks with a high degree of efficiency. As the name implies, they're meant for cutting parts off or out of surfaces. Depressed center wheels are excellent for right-angle grinding applications on a variety of surfaces, including metal and brick.
Flap Discs
Flap discs are round discs made up of densely layered abrasive flaps typically used for shaping metal. Other common applications include:
Welding
CNC machining
Industrial maintenance
Agriculture and food production
Heavy equipment
These discs can provide a more delicate finish than most grinding wheels, including uneven surfaces. They also operate at a cooler temperature, meaning they're less likely to leave unsightly scorch marks.
It's important to note that even when a flap disc looks a little worn, it does not always indicate that it is time to swap it out for a new one. Actually, flap discs remain functional until you can see the adhesive through the flaps.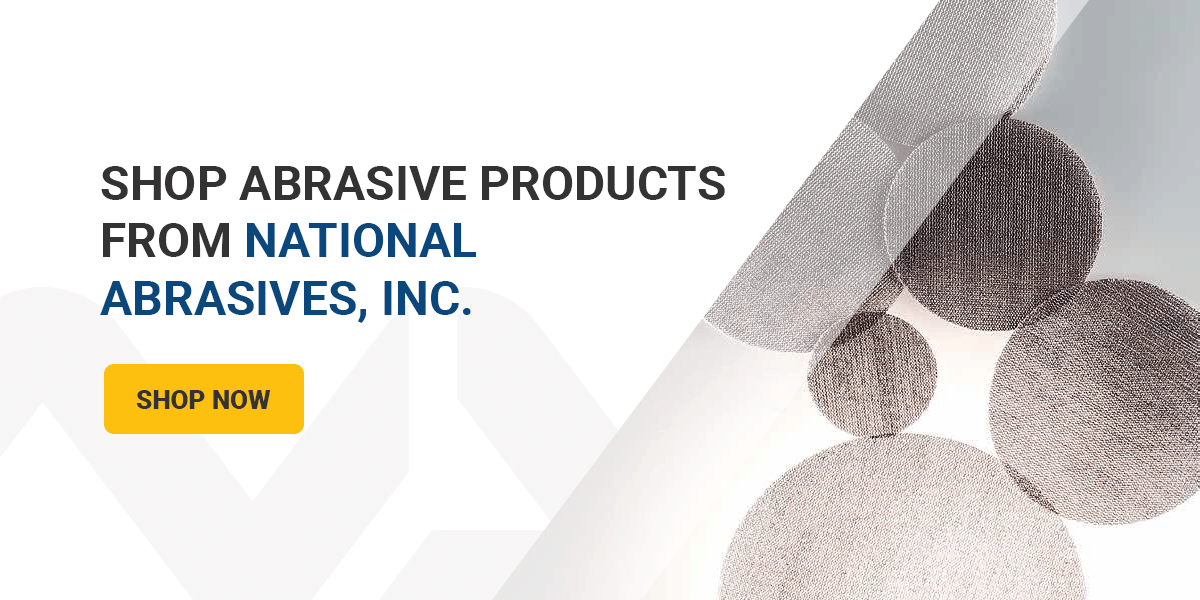 Shop Abrasive Products From National Abrasives, Inc.
If you're looking for the perfect abrasive for your application, consider purchasing from National Abrasives, Inc. Our wide selection includes abrasives for every application and surface from metalworking to bowling ball resurfacing.
As a family-owned business in Central PA, we consider customer service and satisfaction to be one of our highest priorities. If you have questions about any of our products, please contact us through our online form or over the phone at 800-459-8008. We're happy to answer any inquiries.