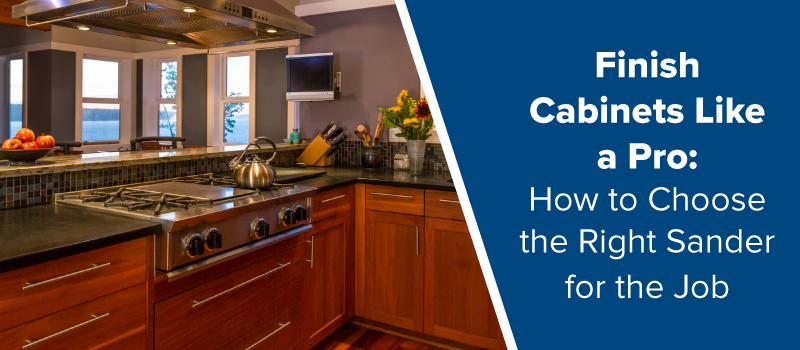 All types and sizes of do-it-yourself projects exist in residential, commercial and recreational spaces and buildings. We like to do things ourselves to save money, expand our skillset and improve aesthetics, and the projects provide a sense of accomplishment as they feed our sense of adventure.
DIY attention frequently turns to the kitchen and bathroom for a few reasons. They're the rooms people most often want to improve. Whether it's for your own enjoyment, to help sell a property faster or to impress your guests, the kitchen or bathroom is a good place to start.
Cabinets occupy quite a bit of space in the kitchen, bath and some other spaces, and the finish on them strongly affects the overall look and feel of a room. The right preparation and finish will give old cabinets new life and give new cabinets a longer life. The same is true for most furniture.
Anyone with a cabinet- or furniture-finishing project in mind, or maybe several of them, will benefit from deeper knowledge of wood sanders because they are the main component used for both jobs. There's a long response required after asking the question, "Which sander should I buy?" National Abrasives, Inc. offers the knowledge and products to answer the question fully.
Types of Sanders for Finishing Cabinets
To start, here's a description of the types of different sanders.
Random Orbital Finishing Sander
A random orbital finishing sander is a handheld machine that delivers both rotary and orbital motion. It has a round bottom that spins at about 10,000 revolutions per minute as it simultaneously creates a slight wiggle action, about 1/8 of an inch from the center. It works fast and easily removes ridges, edges and imperfections, and it does not leave the crosshatch pattern of other finishing methods due to its random operation.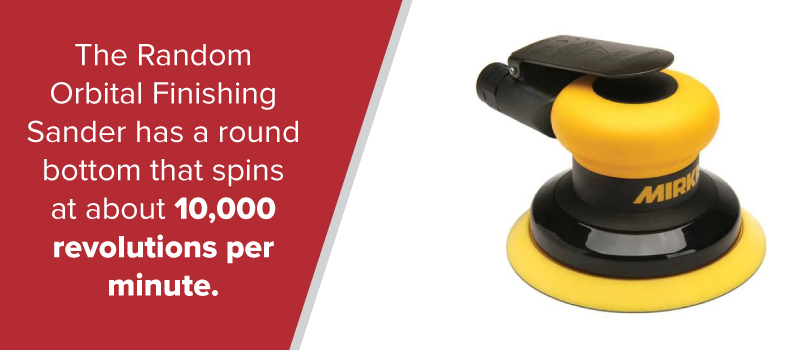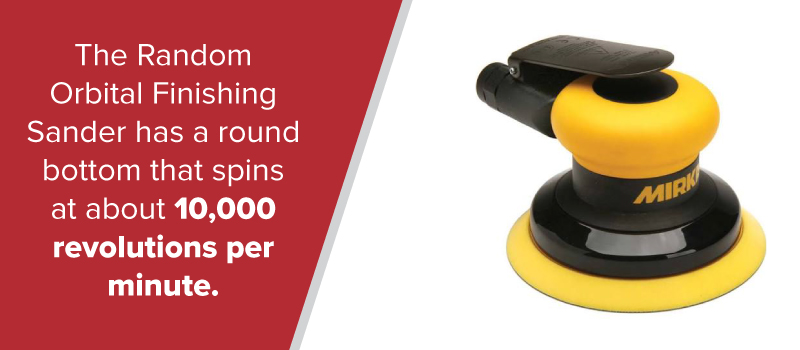 What is the best sander for cabinets? A survey of four woodworkers and four home-improvement editors in "The Family Handyman" yielded the unanimous answer that a random orbital sander works best for finishing cabinets. Cabinet refinishing requires quite a bit of hard work no matter how many surfaces there, so many users appreciate the power and speed of the random-orbital sander. Many would argue that the random orbital is also the best electric sander for refinishing furniture.
The random-orbital sander uses sandpaper discs that are usually three, five and six inches in diameter and attach to the bottom with Velcro or glue. It is commonly used to prepare wood to stain or paint and to flatten it and remove imperfections where needed. You can usually control the random-orbital sander with one hand, but a few of the bigger, more powerful models might require both hands.
Another pleasing feature of the random-orbital sander is that some models have holes in the pad and head that allow dust to be vacuumed into them as you go along. Most users agree the tool has few drawbacks other than it probably won't be the least expensive and is usually too powerful to use between coats of finish.
What is the best random orbital sander? It would be difficult to declare one model or one brand. Everyone might answer the question differently, and a person would have to have tried nearly all the sanders out there to give a qualified opinion. NAI is an authorized dealer of Mirka Ceros and Deros sanders and know from experience that they perform well compared to the rest of the market.
Shop Random Orbital Sanders
Orbital Finishing Sander
An orbital sander is also a handheld machine, but it has a square bottom powered by components that make tiny orbital motions to vibrate the plate-like underside holding the sandpaper. Generally, the orbital takes a standard, square sheet of sandpaper 9 x 11 inches, which attaches by clamp and various other means. You will also see variations of this finishing sander called a palm sander and sheet sander, and they may take a half or quarter sheet of sandpaper.
The square-shaped head of the orbital finishing sander vibrates at a rate that will vary according to the model purchased. It is constructed of strong-yet-lightweight composite materials, which make it the easiest of all sanders to maneuver. Until a user perfects his or her technique to a high level, this sander has the potential to leave swirl or hatch marks in the wood, and it may not do a satisfactory job of removing old materials quickly.
What is an orbital sander used for? People use the tool for all kinds of jobs where wood needs to be refinished, but it's safe to say the random orbital and orbital sander are frequently used to prepare wood cabinets and furniture to accept some type of finish, such as stain or paint.
It is easy to become confused by the similarity between the random-orbital sander and the orbital sander. They are both used for cabinet and furniture refinishing, and both have the word "orbital" in their name. However, the random-orbital sander will always have a round head and the orbital will always have a square head.
Shop Orbital Finishing Sanders
Belt Sander
The sanding area of a belt sander usually measures 18 or 21 inches long by three or four inches wide and is known for its ability to power through large areas and thick substances. A sandpaper belt runs between pulleys at either end of the machine, which has brute strength and an aggressive nature that requires both hands.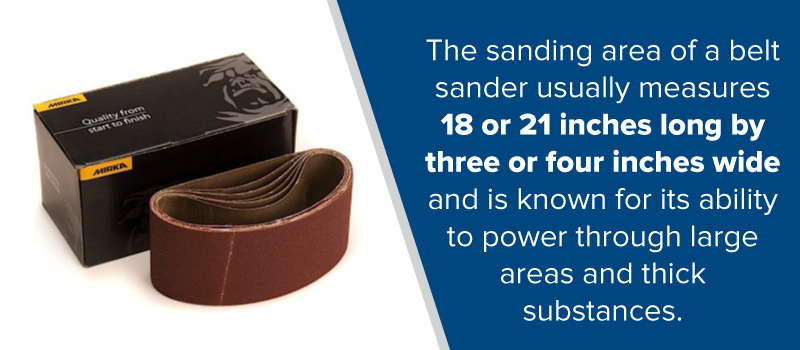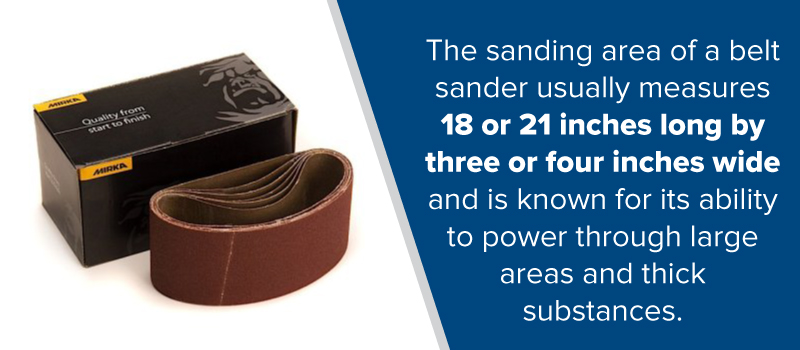 It is not known as a finishing sander, but the belt sander can be a great tool when dealing with a lot of preliminary removal before the finishing can begin. Sometimes fine-wood cabinets or furniture might have decades of buildup on them from the different finishes applied. A belt sander can zip through the layers of paint, shellac, wax and other materials in a short time compared to other sanders and hand sanding.
The belt sander is ideal for long, flat pieces of wood. If you have big pieces with a lot of surface area to cover, such as benches, tables or beams, know that the belt is what type of sander to use on furniture. It would be tough to pick the clear winner in a belt sander versus orbital sander challenge. The belt might produce more brute strength and rip through old finishes faster, but the random orbital would do the same job and allow the user more comfort, control and ability to refine.
Detail Finishing Sander
A detail sander can help reach inside odd corners and angles found in cabinets, furniture and other woodwork. Perhaps the smallest of the finishing-sander family, some of them resemble a tiny clothes iron, which is ideal for sanding in tight spaces and saving fingertips. Some of the detail sanders have small attachments for various jobs, and some models have different shapes of interchangeable sanding pads.
Manual Sanding
Machines certainly make woodworking life easier and less time consuming, but hand sanding still has its place. You may be able to reach some areas by hand that you cannot with a sander, or doing it by hand may enable you to apply the final and perhaps delicate finishing touches you want for the wood.
Sanders are generally powered by electricity or air and sometimes batteries. Electric powered sanders are probably most common because they do not require an air compressor and usually cost less than their counterparts. Some would argue that an air-powered sander works faster than an electric one. Battery-powered are less common, and the main concern with them is the battery type and lifespan.
Shop Handpads Now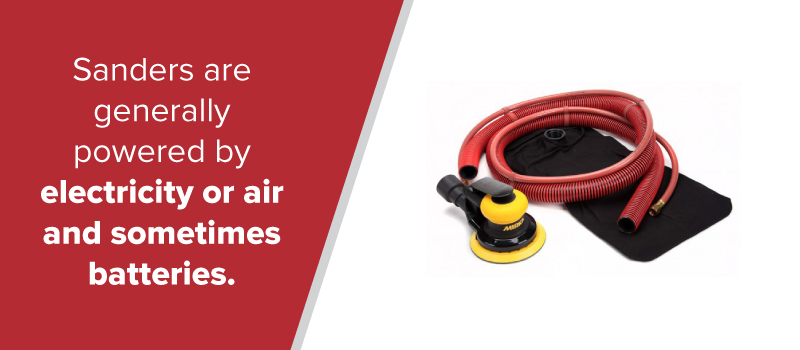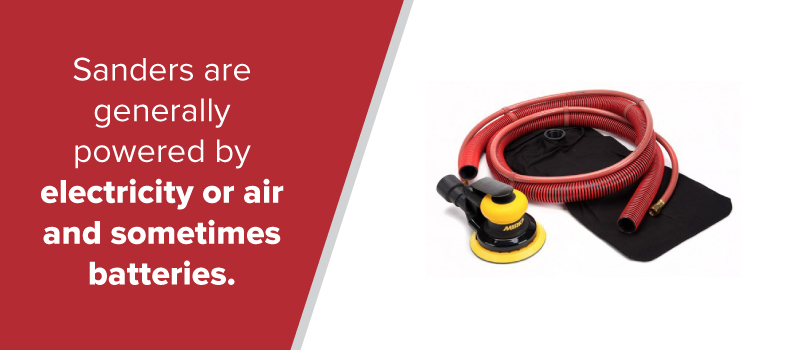 Once you have the equipment in hand, you're probably eager to start the project, and it will pay to practice with the sander a bit before you begin on cabinets or furniture. It does not require years of training to get it right, but a test piece helps you gain a feel for how the machine performs.
Many people seek the best sander for furniture, but what's best depends heavily on the individual project. Sometimes the best solution is to own two sanders — perhaps a random-orbital sander and a detail-finishing sander, so your sanding capabilities can range from small, occasional projects to moderate improvements and production.
Recommended Sanders for Cabinets
Electric Orbital Sanders
Pnuematic Orbital Sanders
All About Sandpaper
Generally, the objective in sanding wood is to start with the bigger grit and work it a few times with a progressively finer grit. Initial passes remove imperfections and old finish, while the later passes with finer grit should essentially make the scratch marks disappear and leave the wood surface with a soft texture.
The same professionals who recommend using the random-orbital sander for cabinets and furniture also advise users to make at least three passes with three different grits of sandpaper: first with 100 grit, second with 180 grit and third with 220 grit. When people ask what grit sandpaper to use for kitchen cabinets, a professional will tell them to use multiple grits.
The random-orbital sander takes sandpaper discs in various sizes, and the orbital sander usually takes a quarter, half or whole sheet of sandpaper. Woodworkers like the random orbital because the random nature of its movement lessens the chances of visible hatch marks, or sandpaper scratches.
NAI carries trusted, top-quality sandpaper brands such as Abralon, Abranet, and Autonet, all the best sanding sheets for orbital sanders. Most discs fit many models of sander, except the Deros Spherical sander for bowling balls, which has uniquely shaped pads.
Tools and Tips
It helps with cabinets and furniture to establish a workplace and then move everything you will need to that spot. The preparation will save you frustration and ultimately time. Gather the following materials:
Random-orbital or orbital sander
Sandpaper sheets or discs
Dust mask
Dustpan and broom or vacuum
Extension cord
Safety glasses
Earplugs
The following tips will help your cabinet or furniture-finishing project go smoothly and keep you safe:
Check an inconspicuous spot such as the back or inside the frame of existing cabinets to be sure they are solid wood before sanding. Particleboard and similar materials cannot usually be refinished successfully.
Strip off old paint, varnish or stain before sanding.
Use a gel-based product, so it doesn't run as fast on a vertical cabinet surface.
Place a respirator or dust mask over your face while working with paint- or stain-removal chemicals and while sanding.
Work in a well-ventilated area to remove paint or stain and sand cabinets or furniture.
Wear long sleeves and gloves.
Prepare to have patience when removing old finishes.
Remove doors, drawers, knobs, pulls and hinge hardware.
Classify and mark the parts as they're removed.
Use any sharp tool available to scrape stain or paint out of crevices and small areas.
Be sure to sand down to a smooth, clean surface, past all the grime and oil that tend to gather and stick to everyday cabinets.
Fill in any screw holes or small indentations with wood filler (auto body resin also works) before sanding.
Move with the grain of the wood regardless of what sander is used.
Finish with hand sanding to create the smoothest finished surface possible.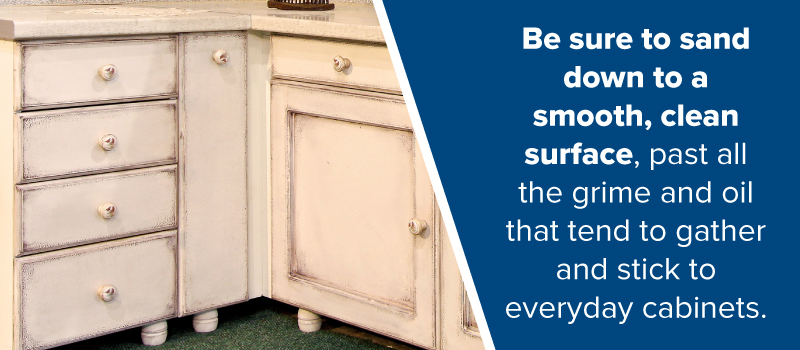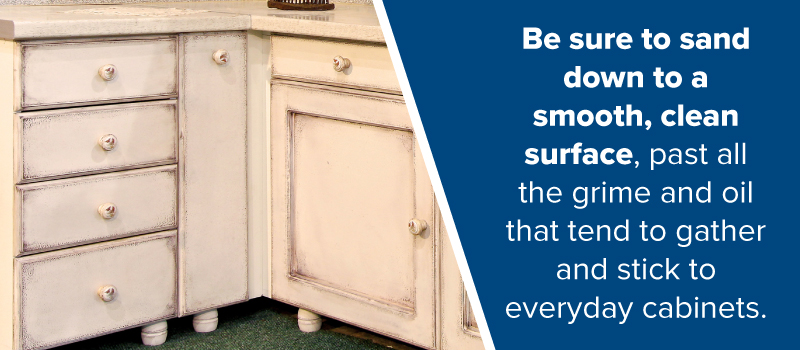 Wood Finish 101
Whether painted, stained or naked wood, most cabinets are coated with some kind of protectant. Unless you did them yourself the last time and know, it can be tricky to figure out which finish is on your cabinets.
A tiny bit of detective work can help you determine the correct stripping product to use for removing the finish on furniture or cabinets. Consider the following information:
Lacquer or shellac comes off easily with lacquer thinner.
Paint remover takes off paint, and you can test with denatured alcohol to see if the paint is oil or latex based. The alcohol would only affect water-based paint (latex).
Penetrating oil soaks into a wood and cannot be removed.
Polyurethane or varnish can be mostly eliminated with paint-varnish remover.
Shellac will easily dissolve with a few drops of denatured alcohol.
Water-based finishes will liquefy with a few drops of Xylene.
Wax-based finishes dissolve with a few drops of turpentine.
Turn to the Experts
With National Abrasives, Inc., you don't have to wonder where to buy an orbital sander. We have a wide selection of different types and the sandpaper and discs they require. We also have a price-match policy and free shipping with a minimum purchase. Our customers quickly learn that they can turn to us for a pack of five discs or an order of 500 belts, all with knowledgeable people helping to locate hard-to-find items, meet deadlines, solve problems and provide discounts on applicable orders.
NAI provides free samples upon request, and we back our products and services with more than 20 years of experience and the integrity of a family-owned-and-operated business. Our expertise in abrasives does not stop with sanders and their universe of paper options. We carry products ranging from wire brushes to wheels and rolls of all sizes. Don't hesitate to contact us and let us know how we can help: 800-459-8008 and info@nainc.org.
Learn More About Working With Wood
*Updated February 20, 2020