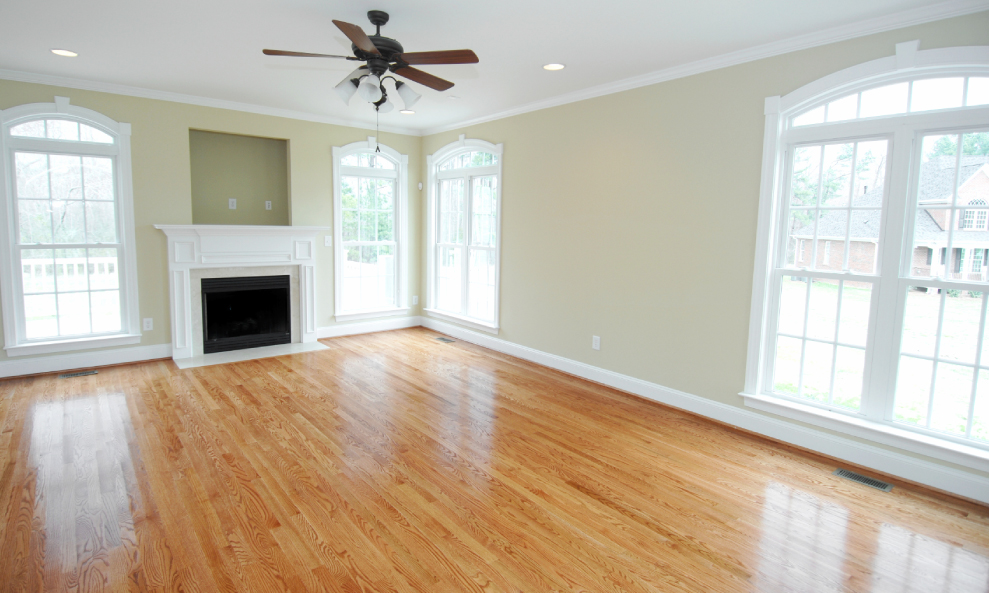 Hardwood floors can be a beautiful addition to a home. They offer a warm and inviting feeling that puts many people quickly at ease. Over time, however, a hardwood floor can lose its luster.
We've all seen hardwood floors that have been neglected. We're left imagining how beautiful it could be if only it were cared for. At some point, that time will come for your hardwood floor too, and then you'll need to refinish it.
When that time does come, you have a choice. You can hire someone else to do it, or do it yourself. The cost for having a professional refinish a hardwood floor runs about $3.50 to $4 per square foot. If you do it yourself, it will cost about $1 per square foot.
Let's consider a room that's 30 feet by 20 feet. That's 600 square feet, or $600 if you do it yourself versus perhaps $2,400 if your hire someone else. With a savings of $1,800, it's easy to take doing it yourself very seriously. Plus you'll get the satisfaction of taking matters into your own hands.
Once you make the decision to do it yourself, you have to plan ahead to have everything handled in a systematic way. You don't want any surprises, omissions or to make any mistakes that will ultimately require a professional to come in and fix up. Here's how to sand and refinish hardwood floors yourself, including what you should and shouldn't do to bring your hardwood floor back to life.
As an aside, if you're thinking "How can I refinish a hardwood floor without a sander?" please stop and reconsider. You'll need to ensure that the flooring is even – everywhere – otherwise when you apply your finish you'll find it pooling and rippling, and it certainly will not give you the look you want. You really can't ensure your floor will be ready for staining and refinishing if you don't sand it meticulously first, and you just can't expect to do that by hand.
Should the Floor Be Refinished?
Part of a successful hardwood floor refinishing is knowing which floors are suitable for refinishing and which need more extensive help. You should first examine the floor carefully for damage.
If the wood is cupped, warped, stained or if it squeaks when you put force on it, then doing a refinish won't be enough. You need to first get the damaged wood repaired or replaced before you can work on a refinish. In that case, you should consult with a professional who can advise you on which wood can be saved, and which needs to be reworked or replaced by something else.
Once you decide that the floor is in good structural condition, one of the best ways to check that your floor is ready for a refinish is to watch what happens when you drop a little water on it.
If the water beads up or, at worst, soaks slowly into the wood, then the wood might just need a bit of polish. You'll either want to use a water-based polish, because it won't leave a residue, or a urethane-based polish, which dries quickly and gives your wood a protective layer.
If the water soaks into the wood straight away, that's a sign that the finish is off the wood and the wood fibers are thirstily sucking up the water. That's certainly a signal for you to refinish the floor and give it the protective layer it needs.
Preparing the Room for a Wood Floor Refinish
Once you've examined the floor, you have to prepare your room for work. That means removing all the furniture in the room, and covering any remaining fixtures that you can't remove so that the dust you create during the job won't get into fixtures or ruin artwork or other items in your room.
Next, you have to protect yourself just as much as you protect your belongings. You should get a set of dust masks and ear protection. You don't want to breathe in the dust you're going to create, and if you're working for any substantial length of time, listening to the drone of your sander whirling away against the hardwood floor isn't going to be music to your ears.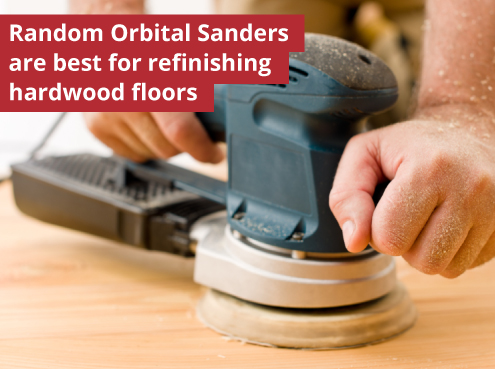 You'll also find that when it comes time to apply a sealer or oil-based  polyurethane to the wood, you'll need eye protection. You should also keep in mind ventilation or respiratory filters to ensure you don't breathe in the fumes these chemicals emit.
Choosing a Sander
Once you have your room ready, it's time to sand down the wood to an even and smooth surface that will be suitable for applying sealer. What's your best choice for a sander?
Bob Vila, the well-known home improvement guru, suggests that if you are only going to refinish your wood flooring on occasion, you should usually opt for a random orbital sander.
If you're new to do-it-yourself work with sanders, it's important that you not confuse a random orbital sander with an orbital sander. The main difference is that while an orbital sander moves the sanding paper in a circular motion, a random orbital sander moves the paper in an elliptical pattern while also moving it side to side.
For refinishing a wood floor, this difference is extremely important. An orbital sander will tend to leave swirling sanding marks in the wood. A random orbital sander won't, or won't as much, and swirls in a wood floor aren't what you're looking for.
You may find recommendations for using a drum sander, which uses a sleeve of sandpaper attached to a square drum. The drum spins around and the sandpaper grinds down the floor.
The reason drum sanders are recommended is because they work quickly. In the hands of an experienced craftsman, a drum sander will make a lot of sanding go much faster. In the hands of an inexperienced do-it-yourselfer, you run the risk of sanding too aggressively and potentially ruining your floor quickly. If in doubt, your best sander for hardwood floors is going to be the random orbital sander.
Budgeting Your Time
Once you're ready to start, stop and check the clock. You should budget your time for your project before your sander hits the floor.
A good rule of thumb is that 140 square feet will take you five hours working alone. That means that a 600-square foot-room is a multiday effort.
Depending on your level of physical activity, you may find that two or three hours are all you'll want to put in per day. It's important to listen to your body and take breaks during the effort. If you strain yourself on the first day, then what was going to be a three-day self-rewarding project might be a weeklong painful endeavor.
Sanding the Floor
Before you start with a machine sander, one floor sanding tip is that you may want to hand sand in between boards as a preparation for machine sanding. It's an extra step, but one that professionals often take. It helps to get the grooves between the boards to match the color of the boards when the job is complete.
As you start machine sanding, you need to choose the coarseness of the sandpaper that you're using. You then adjust it to a finer grain as your proceed.
It's recommended that you start with a grain that's just sufficient to remove what's left of the old finish and the surface scratches on the wood. You want all of the old finish gone and you want the scratches removed, but you don't want to sand away any more of the wood than is necessary.
One suggestion is to start with no lower than a 60-grit abrasive sandpaper. From there, you can adjust the paper to finer grains, such as 80, 100 and 120.
Before you start sanding hardwood floors yourself, think about where you want to start and where you want to end. This will vary based on the shape of the room and the doorways, but you can consider starting in the center and working your way out from there. Alternatively, you can sand the floor in a pattern of rows, in which case you should overlap rows to ensure you don't miss spots.
One of the reasons that the entire process of refinishing takes a long time is that you have to cover every spot on the floor multiple times with each grain level of sandpaper.
Depending the on the actual sander that you use, you may find that the corners of the room are difficult to sand, or at least they may be difficult to sand to a level that's consistent with the rest of the floor. In that case, you may want to use a palm sander in these difficult places. A little tip is to ensure you protect your knees while doing this work, as well as protect the floor from any scratches that might come from your knee protection.
When you've completed sanding the floor to a polished, smooth surface, you'll need to vacuum up all the dust. No matter how much you vacuum, and even if your sander is connected directly to a vacuum, you'll find that you won't be able to pick up all the dust. You'll want to go over the entire floor with a cloth and ensure you get every speck of dust, strand of hair or anything else up off the floor before you continue.
After sanding the floor you should use a buffer to prepare the floor for sealing. A buffer is a machine that spins a buffing pad at very high speed, for example, 175 to 3,000 rotations per minute (RPMs).
Staining the Hardwood Floor
The wood stain gives the floor its characteristic color. Staining may require multiple coats and is applied as a mix of sealer and stain, which is often nine parts sealer and one part stain. Once the stain is applied you let it dry, then sand it gently and vacuum again before applying the finish. That again is applied in multiple coats.
When you start with stain, you don't want it too thin or too thick. It has to cover the floor consistently and not lump up or pool in any areas. Again, think about where you want to start and where you want to finish. Make sure you work your way toward an exit so that you don't have to traverse the stain when you're done.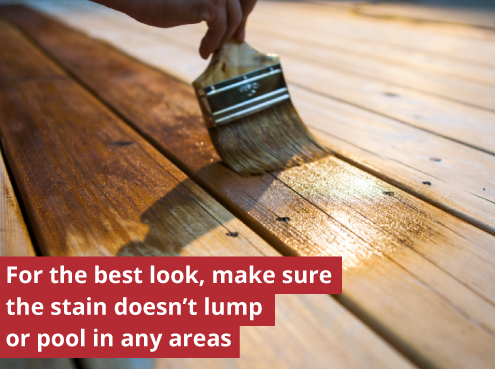 Be methodical when staining the floor. You need the stain to be even, not skipping any section of the floor. Staining goes much faster than sanding, but you should think of going slow to ensure your end product is of the highest quality.
Finishing the Hardwood Floor
After staining, you'll want to apply a urethane finish to your floor. You should first apply a fine-grain (200+-grit) buffer on the floor. This again goes quickly, but you need to ensure that you have full control of the buffer. Some buffers require more than just arm strength to control effectively.
Before applying the finish, you need to revacuum the entire floor. Again, your goal is zero dust, no hairs, nothing that would get incorporated into the finish.
The urethane finish is applied in a manner that's similar to the stain. If you use an oil-based urethane, you'll find the flooring will get yellow over time. Water-based urethane finish is more expensive.
You'll need to apply multiple coats of finish and use a buffer after each coat except the final coat. You should ensure good ventilation to the area, using fans to keep the air circulating in the room. Don't point fans at the finish directly. Just point them into the room to keep air moving.
Choosing the Right Equipment at National Abrasives, Inc.
With any home remodeling project you need to make sure you have the right equipment for the job. At National Abrasives, Inc., we carry a variety of tools for woodworking, including the tools you need for refinishing your hardwood floor.
We know the importance of great customer service, and as a family owned business, we also appreciate what your home means to you.
National Abrasives, Inc. carries the Mirka line of sanders as well as rolls, discs and sheets. We can help you find the right equipment for your home hardwood floor refinishing project, every time.
Maintaining Your Hardwood Floor
After you invest your time and effort into making your floor look as good as new, you'll want to keep it that way. Here are some tips to help you keep your hardwood floor looking its best:
| | |
| --- | --- |
| | Be sure you clean up any spills quickly so the wood has less opportunity to stain. |
| | You should dust routinely, clean the floor weekly and polish it quarterly. Regular maintenance helps keep your floor in great shape. |
| | You should avoid using vinegar or soapy cleaners on wood floors. You'll find the floor gets dull over time. You'll also want to avoid steam cleaners because they use too much water and, when combined with the heat from the steam, will tend to warp the wood. |
| | Try your best to keep the room humidity in a moderate range. High or low humidity can damage the wood. |
Contact Us Today
Starting a hardwood refinishing project can be a little intimidating. The process itself, as detailed here, is pretty straightforward if you have the right equipment and some patience. You'll need a sander for your project, and you can trust National Abrasives, Inc. to help you find the right one.  Call us today at 800-459-8008!
Learn More About Abrasives for Hardwood
Updated: February 20, 2020