Tools for Wood Work
When working with wood, especially when cutting it in any way, sanding is an integral part of the process. The first recorded use of sandpaper is from China in the 13th century. Sand, glass, shells and plants are some of the various materials ancient societies used to smooth wood and other types of surfaces.
Nowadays, we have many different types of special abrasives for woodworking. For small projects or super fine detail work, manual sanding apparatuses work especially well, including paper, blocks and hand tools. For larger projects that require more intense sanding or in industrial settings, using an electric sanding tool will be the most efficient.
There are a few different types of electric sanding tools with a variety of different uses. Learn more about the best electric sanders and abrasives for wood from the pros at National Abrasives, Inc.
Best Types of Electric Sanders for Wood
In general, electrical sanders are your best option compared to pneumatic and other versions. Each type of electric wood sander has its benefits because different types are appropriate for various tasks. For example, one may be better at removing paint, while another is ideal for finishing work.
Pneumatic, or air-powered, sanders use an air compressor to power their movement rather than an electrical connection or battery. While the cost for pneumatic sanding tools tends to be lower than electric sanders, you may end up paying more in the end in energy costs to power the compressor. If you don't have ready access to electricity, however, a portable air compressor and a pneumatic sander are ideal for tackling sanding jobs.
Electric sanders for wood are your easiest and quickest option when you need to sand a piece of wood smooth to the touch. Instead of hand sanding, electrical products can make the task less excruciating and can work with many different surfaces. They come in various sizes and types depending on the task at hand and can sand almost any surface.
Safety Tips for Working With Electric Sanders
When working with electric and portable power tools, you should make sure to use the correct type of abrasive and always wear protective gear. Wear a dust mask and safety glasses to protect yourself from flying debris. Even if your electric wood sander produces limited dust or has a vacuum, you can implement safety features to ensure minimal hazards. Always keep your hands away from the sander while it's running and never apply pressure, as the machine may kick back and cause severe damage.
If you purchase a new power sander for woodworking, make sure to follow the manufacturer's safety guidelines. Always wear earplugs and avoid sanding near flames, sparks or other potential dangers. Electrical sanders are more economical and are your best option for a variety of jobs, but you have to know how to handle them. To use most electric sanders, you'll likely follow these steps:
Before plugging the sander into the wall or inserting the battery, ensure the sander's switch is in the off position.
Install the correct sanding sheets or discs, ensuring you're using the right grit for the type of sander and the job.
Place the sander firmly on the work surface and press the on switch.
Use consistent pressure to glide the sander across the surface. With most sanding tools, you'll always want to follow the grain.
If necessary, wipe away dust with a cloth after you have finished and powered off the sander.
Unplug or disengage the battery of the electric sander when not in use and store it in a safe, dry place.
Wood Sanding Abrasives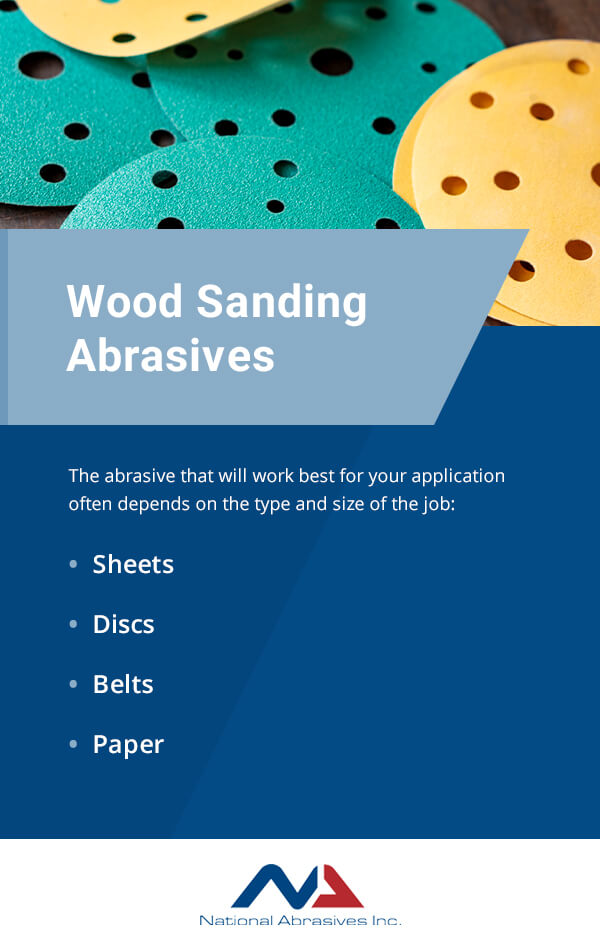 There are a few different types of abrasive tools for woodworking. The abrasive that will work best for your application often depends on the type and size of the job:
Sheets: Some sanding tools require the attachment of sanding sheets. These usually come in particular shapes that match the tool for sanding. Most sheets come in various sizes of squares, circles, triangles or rectangular shapes.
Discs: Some electric sanders rely on discs rather than sheets. These round woodworking abrasives attach to an electric sander to attain the desired level of sanding.
Belts: Sanding belts come in continuous looped sheets. While they aren't suited to fine work or finishing applications, belt sanders are great when you need wood sanding abrasives that can strip a surface quickly.
Paper: Sandpaper is likely the most widely used abrasive for wood because of its low cost and ease of use. These papers usually come in packs and are easily bendable to fit around corners and edges. They're best for smaller projects and detail work, as using sanding paper for large areas can be tiresome.
In addition to a complete selection of Mirka discs, rolls, sheets, pads, belts and more, we also carry an entire line of wood sanders for sale. These sanders come in various sizes and can handle many different woodworking projects.
Random Orbital Sanders
Found in most woodworkers' tool belts, random orbital sanders provide the smoothest of finishes thanks to their versatility and innovative design. The tool's sanding discs spin and move in an elliptical pattern at the same time to prevent the abrasive from leaving repetitive marks on the workpiece.
Because different power tools for woodwork operate for various jobs, random orbital sanders have specific characteristics. They are one of the most versatile portable electric sanders on the market. The sanders have a rounded pad as opposed to the square pad used with orbital sanders. It vibrates and moves in tiny circles, allowing it to leave a smooth finish while also making it a bit more challenging to control.
With its random pattern of vibration and orbits, the electric sander eliminates gouging and decreases any swirls left behind. Spinning and vibrating at the same time makes it useful for ultra-smooth sanding for stock removal, although a random orbital sander won't remove wood as quickly compared to a belt sander.
Best Uses for Random Orbital Sanders
As electric-powered, rotating abrasive tools, random orbital sanders are better for some jobs over others. Some use pressure-sensitive adhesive (PSA) discs, while others might take discs with a hook-and-loop backing. Due to their lightness and ease of operation, these sanders are great for beginning woodworkers or do-it-yourselfers who want to tackle a larger project and have the right tools for the job.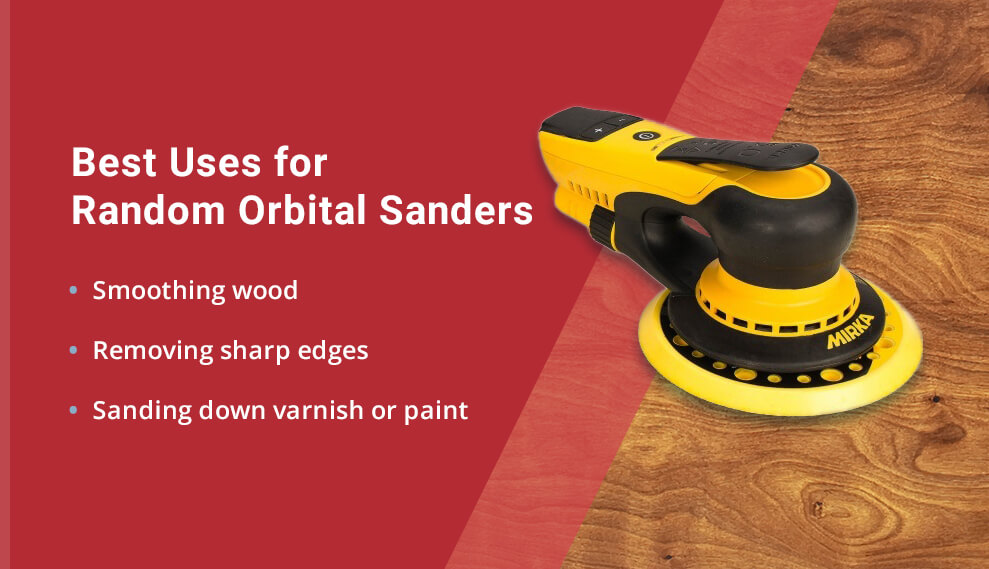 Random orbital sanders are less likely to damage the wood because they have a finer sanding pattern. They are best used as wood finishing abrasives, which work for smoothing wood, removing sharp edges and sanding down varnish or paint. For example, random orbital sanders are ideal if you're looking to sand and refinish a hardwood floor or prep a piece of furniture for a new coat of paint.
Most tools for sanding wood from National Abrasives, Inc. have one-handed or palm-grip-shaped handles. Some are also available with a barrel or D-handle grip. Many of our random orbital electrical sanders come with a 5 or 6-inch diameter pad — 5-inch models are among the most common and make great starter tools. Some also accept peel-and-stick pressure-sensitive abrasive discs, while others use hook-and-loop backs. The PSAs are less expensive, but a hook-and-loop version is faster and easier to change or reuse.
Check out our recommendations for random orbital sanders for your next project:
Finishing Sanders
Finishing sanders are also known as orbital finishing sanders. You can also refer to them as quarter-sheet sanders because they use a quarter of a sheet of standard sandpaper. These tools for sanding wood are lightweight for easy use, and you can control them with one hand.
Orbital sanders vibrate in small circles — or orbits — hence the name. They give you the freedom to sand in any direction, work well in cornering projects and are great for plywood and fine veneers. The sanders have two spring-loaded clamps that hold your sandpaper against the square pad, making sure it doesn't shift during the process. When you buy an orbital sander with a higher orbit-per-minute rate, it will sand faster, helping you to complete more jobs.
Best Uses for Finishing Sanders
If you are using an orbital finishing sander, it's almost impossible to damage your piece of work. While it's intended for smooth wood sanding, a finishing sander is not ideal for heavy stock removal. Rather, it's perfect for removing chipped paint, polishing jagged edges and smoothing imperfections.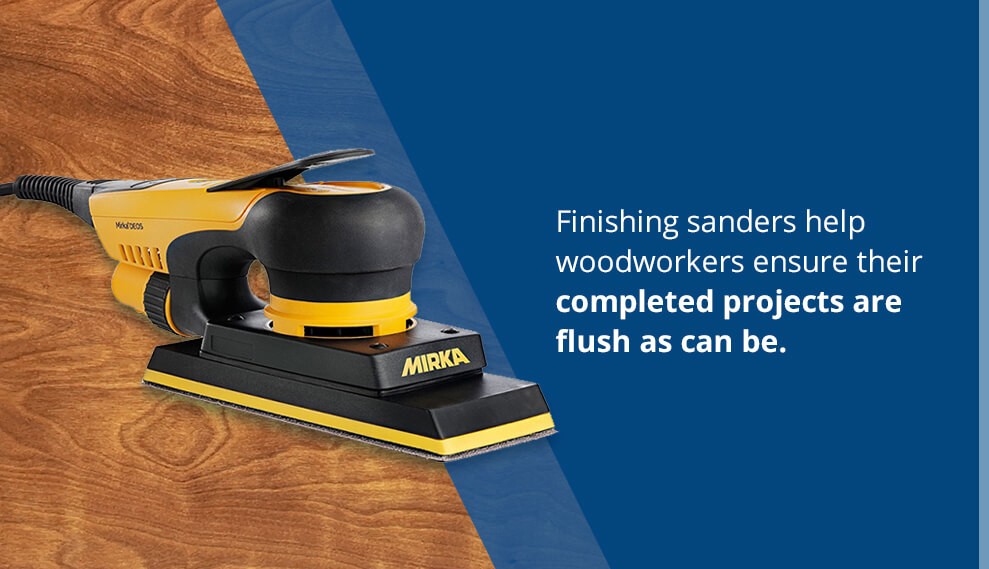 Finishing sanders help woodworkers ensure their completed projects are flush as can be. They are great for placing the finishing touches on things like tables, cabinets, chairs or anything that requires an ultra-fine finish.
When you source finishing sanders from National Abrasives, Inc., you can find both electric orbital and pneumatic orbital finishing sanders. Among the electric orbital finishing sanders, we recommend:
If you're looking for a pneumatic orbital finishing sander, check out:
Palm Sanders
As the tool's name suggests, palm sanders are small by design, fitting in the palm of a woodworker's hand. These woodworking abrasive tools provide the precision and control necessary to put finishing touches on all kinds of surfaces in factories, wood shops and more. Though they require more manual operation than some electrical models, they do have components that help speed up the sanding process.
To use a palm sander, you'll need to find the right grit of sandpaper to attach to the pad. Lower grit correlates to coarser surfaces, while higher grits result in a fine or extra-smooth finish. Whatever your application, it's essential you sand in the same direction of the wood grain.
Best Uses for Palm Sanders
Palm sanders are ideal for smaller projects such as stripping furniture or sanding drywall and are small and simple to operate. If you're starting out with woodworking, pick up a palm sander as a great starter tool. You'll still be able to use it once you have more sanding tools in your repertoire, but they're great as a cost-effective introduction to electric sanders, and they can accommodate a wide range of sandpaper grits.
National Abrasives, Inc. carries a variety of palm sanders, including the Mirka MR-30 Palm Buffer — with its 3-inch pad, it's the perfect choice for small, quick jobs. The palm grip makes for easy operation so you can polish and remove sanding scratches easily.
Self-Generating Vacuum Sanders
When you use a self-generating vacuum sander, you won't have to worry about dust gathering on the work surface and affecting your projects. You also won't have to spend time cleaning up after yourself because the tool does the dirty work for you.
A self-generating vacuum sander works by vacuuming up the dust and debris of the sanding process while you are sanding. These tools can prevent dust from obscuring your work surface, ensuring you always get even and accurate cuts and measurements. They can also make your work environment safer, ensuring dust doesn't get in your eyes or impair your breathing while working.
Best Uses for Self-Generating Vacuum Sanders
If you're working in a shared space, such as a garage or workshop that needs to stay clean, a vacuum sander will be a great investment. You'll save time and find yourself working more efficiently since you won't have to pause to clean up your space as you go. If you have a high-precision job, a self-generating vacuum sander can ensure you have enough visibility to shape your wood to exact specifications.
Self-generating vacuum sanders come in various options, including square and round shapes with varying sizes and speeds. Some of the best self-generating vacuum sanders on sale at National Abrasives, Inc. include:
Buy Hand-Held Sanders for Wood at National Abrasives, Inc.
When you shop at National Abrasives, Inc., you can do so with the confidence that comes with knowing you're getting competitive prices as well as customer service that can't be found anywhere else. We are one of the premier woodworking abrasives suppliers in the nation, with plenty of unique products to help you complete almost any project. As a family-owned and -operated business, we pride ourselves on helping our customers find the exact woodworking materials they need to complete their jobs to the best of their abilities.
We'll provide friendly, helpful assistance and answer your questions so you can be well-informed before making any purchasing decisions. We want you to be confident and happy in the choices of products you make, and we'll even give you free samples if you need a bit more convincing. We ship all our orders quickly — for some items, we can provide same-day shipping, and any order receives free shipping. We also offer bulk discounts so you can save even more and tackle your new projects right away!
Contact the team at National Abrasives, Inc. today to get started, and join our monthly email list to get 10% off your next purchase! If you're looking to snag a bargain, check out our closeout sales and special deals.