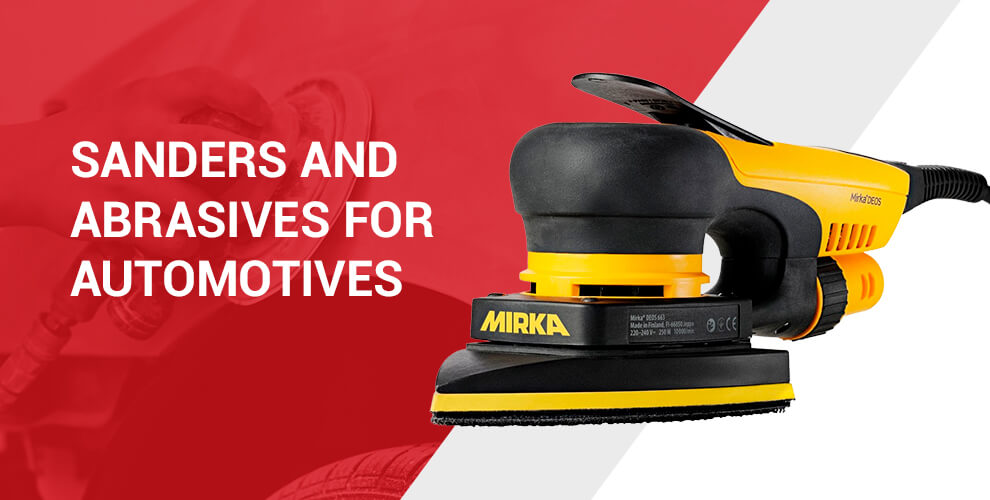 Whether building custom cars or managing auto body repair shops, it pays to have a direct source for all automotive sander needs from durable, quality brands. Automotive sanders create a smooth, even finish on vehicle exteriors to prepare them for painting or having any defects repaired.
Sanders are tools with abrasive sections that remove unwanted material from an object's surface. Sanders and abrasives allow auto repair and body shops to complete their jobs efficiently for flawless results.
Types of Automotive Abrasives
Sanders and abrasives come in various forms that can all aid in different steps of the automotive refinishing process.
Manual Abrasives
A classic abrasion method, manual sanders and abrasives get the job done with all the strength and precision of your hands. Manual sandpapers offer versatility because you can use them with a very light touch, or fit them in spaces where a larger machine sander can't go When it's only you and the abrasive, you can more accurately tell when you've sanded the surface enough.
Auto bodywork often requires precision, and using a hand-powered sander lets you hit the exact angle you need every time. Many sandpaper sheet brands offer maximum efficiency, so you can reach tough places or easily sand down entire vehicle panels.
Mirka offers a range of sandpaper for an array of applications, including the following.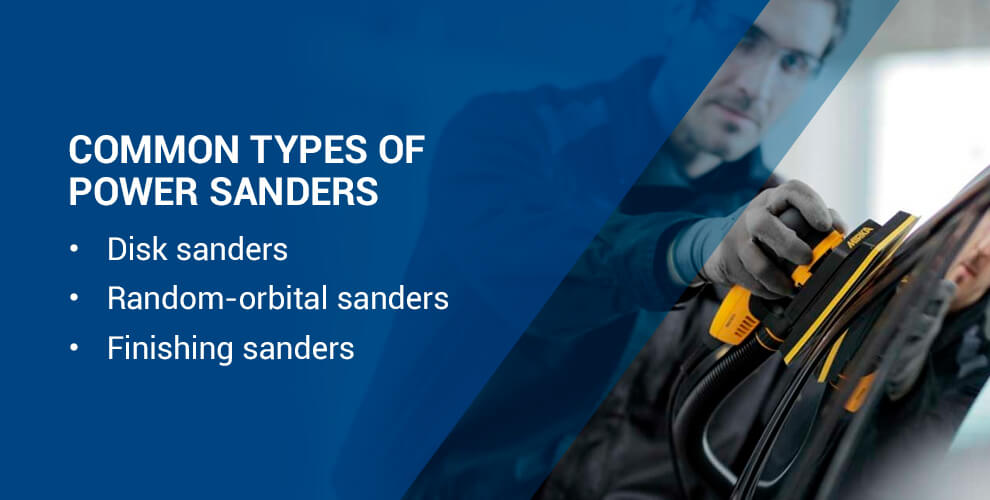 Power Sanders
Power sanders are powerful and durable, able to help you sand down a surface in a fraction of the time as manual sanding takes and with much less effort. Two ways of using enough sanding power for tough jobs are through electric and pneumatic sanders. Electric sanders run on a battery or electrical cord, while pneumatic sanders rely on compressed air.
Electric sanders fit the bill for most jobs. Their motor moves the sandpaper across the material's surface at much higher speeds than you can achieve when sanding by hand. Electric sanders also offer tons of versatility in their multiple orbit and size options.
Pneumatic sanders reliably turn out flat, smooth surfaces. They're great for polishing metal or taking off old paint layers. Their power system makes them lightweight and quiet.
Electric and pneumatic sanders pack a lot of power, and you have many options when choosing a sander design that works best for your job. Common types of power sanders include the following.
Disk sanders:Disk sanders have an abrasive circular disk pad that spins at high speeds. These powerful tools can be challenging to control on flat surfaces, so you should only use them for rough jobs.
Random-orbital sanders:Orbital sanders have a round abrasive pad that moves in random circular orbits so you can sand in any direction. They're versatile, good for rough sanding projects or adding finishing touches. Orbital sanders are easy to control, which makes them less likely to damage surfaces. The random sanding directions and simultaneous spinning ensures orbital sanders won't sand the same area more than once, leaving you with a smooth, patternless finish.
Finishing sanders: A type of orbital sander, finishing sanders are small, handheld machines ideal for light touchups near the end of a major project. They're powerful enough for light sanding, but not suitable for heavy-duty jobs. Finishing sanders can gently remove chipped paint and smooth surface-level imperfections.
Automotive Abrasive Manufacturers
When looking for abrasives and sanders, quality is essential. You want products that will hold up to repeated use and withstand the toughest project demands. When choosing power sanders, Mirka and SIA are two of the most trusted brands, with a wide range of sander and abrasive products to choose from.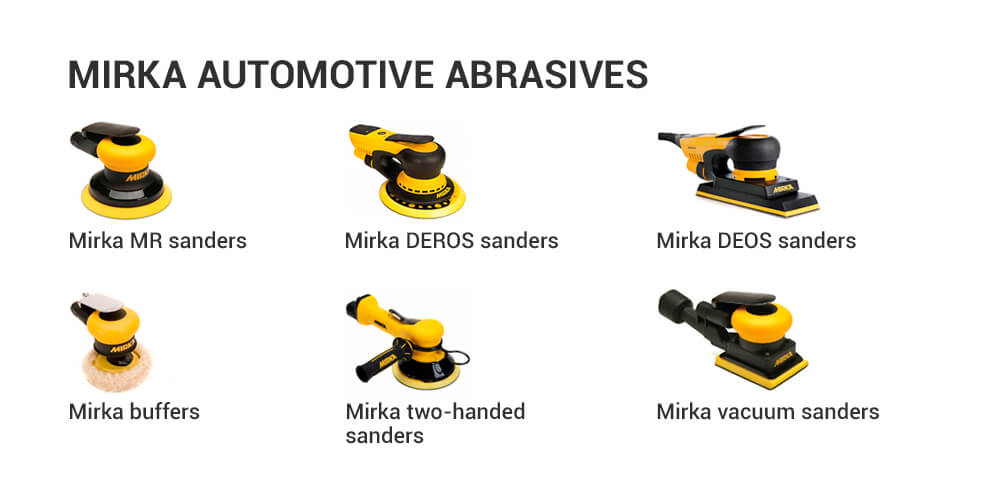 Mirka Automotive Abrasives
Mirka is a worldwide sanding product manufacturer. Mirka sanders are lightweight, easy to maneuverand available in vacuum or non-vacuum orbital finishing models. For automotive projects, you can also take advantage of their innovative brushless electric motors, nearly silent operation, low running costs and minimal upkeep. Choose from among the following models.
SIA Automotive Abrasives
SIA Abrasives is another trusted brand for sandpaper and other abrasive products. With the wide range of SIA abrasives on the market, all automotive projects can receive the perfect finish.
SIA automotive products include the Carat Series. When traditional abrasives aren't meeting your needs, trust the Carat Series sandpaper to effectively sand scratch-resistant coatings, high-gloss surfaces and more. These sturdy and flexible disks consist of scratch-proof lacquer and acrylic glass that ensure high performance over long periods.
Types and Sizes of Orbits and Abrasives
The size of the sanding pad and the diameter of the orbit you choose for your power sander depend on the area you're working on. Larger pads and orbits can sand larger areas at once, ideal for projects with expansive surface areas. Smaller pads and orbits are better for precise work or fitting into tight spaces.
Also, whether you're using a power sander or sanding by hand, consider the grit size of the automotive paint abrasives you're working with. Coarser grits are best for rough jobs, while finer grits are ideal for finishing projects without adding unwanted scuffs. Grit sizes run from low to high numbers, where the lower the number, the coarser the abrasive. Different grit sizes are useful for distinct steps in the auto body repair and painting process.
24- and 36-grit: Sandpaper of this intensity is the roughest. Automotive work rarely requires such a strong grit, unless it involves extreme body damage such as deep gouges on the vehicle's exterior. Only use abrasives in this category for sanding down the toughest scrapes or flattening several rough coats of paint.
40-grit:Sandpaper of this grit size is only a little less coarse than the 36-grit. It's ideal for particularly rough patches on a vehicle, but best kept away from new paint jobs, as it can easily scuff smooth surfaces. Use 40-grit abrasives for removing rough coats of paint or to rub away rust.
80-grit: Sandpaper in the higher grit number range is safe for light use on vehicle surfaces. While light streaks can still occur on the paint job, a higher grit can smooth them out.
150-grit:Abrasives with this grit size usually come into play toward the end of projects. After using lower grit sizes, 150-grit paper can smooth out any additional roughness. Sandpaper at 150-grit is still durable enough to strip a single layer of paint, while gentle enough to smooth out minor defects in an otherwise good paint coat.
240-grit: Sandpaper in the 200-grit range is fine-grained, but durable. Use 240-grit paper to easily strip away a layer of paint on a newer vehicle without leaving behind the coarse streaks a lower grit might.
320-grit: Abrasives in this category are ideal for stripping a single coat of paint while keeping the metal beneath smooth enough for immediate repainting.
400-grit: Ideal for finishing surfaces, 400-grit sandpaper best smooths out metal with no residue when used as a wet sanding primer.
600-grit:One of the finest abrasives, 600-grit sandpaper is gentle enough for correcting issues on a current paint job, such as sanding the edges of an unfinished section to continue painting later on.
1,500 and 4,000-grit: After applying paint to a car, these finest abrasives are perfect for smoothing any roughness in the painted surfaces or adding the finishing touches on a fresh coat of paint.
Polishers for Automotives
After you've used various auto body abrasives to sand down a vehicle's surface and then repainted it, you can add finishing touches with a premium polish.
Achieve professional-quality, high-gloss results with a full range of Mirka polishing compounds in grades from fine to coarse.
Mirka developed their line ofPolarshineproducts specifically for aftermarket use on vehicles. Polarshine polishing products create the perfect shine, even on the most demanding projects. These polishers can do everything from producing a premium-surface finish on paintwork to buffing and sealing high-gloss and painted surfaces.
SIA's polishing products are the finishing touches every automotive paint job needs. Coordinating polishes, pads and cleaning cloths make the polishing process efficient and flawless on new and old paint jobs alike. SIA products remove paint application damage such as fine surface scratches. Some polishes even include sealants to lock in paint protection.
Applications for Automotive Abrasives
When refinishing parts of a vehicle, you want to have the best tools for the job. The right combination of automotive sanders and abrasives can make all the difference in the quality of refinishing and repair of vehicle surfaces. Sanders and abrasives can help make a job go faster and produce exceptional results.
Reasons for using automotive abrasives include the following.
Repainting cars: When a car needs a new paint job, the old coat of paint needs to come off first. Using abrasives on automotive paint to sand off the original paint and eliminate any rough spots on the metal underneath ensures a smooth surface for the fresh coat.
Repairing rough patches: Minor accidents can leave cars with scrapes in varying degrees of intensity. Sanding down these points of impact can prepare a car for repainting, so it's on its way to looking as good as new again.
Removing rust: Some vehicles are prone to rust, especially when exposed to the elements for prolonged periods. Moisture can seep through cracks in automotive paint, leading to rusting on the body. Corrosion can quickly degrade metal surfaces and spread to other areas, which is why it's important to remove it with a strong abrasive and repair the affected areas as soon as possible.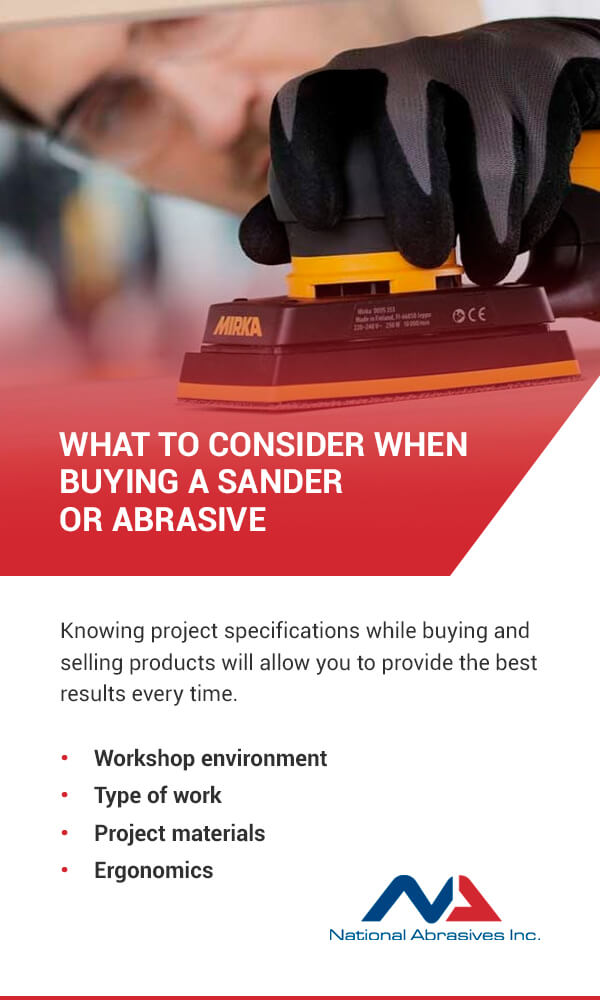 What to Consider When Buying a Sander or Abrasive
Having a project in mind is the first step. Knowing project specifications while buying and selling products will allow you to provide the best results every time. Once you understand why sanding tools are necessary, you can evaluate your options and needs.
Workshop environment: Ensure the workspace includes a clean, dry place to store power tools, plus a ventilated area to use tools that don't have a built-in vacuum. Also, if using electric sanders with a cord, ensure there are close enough power sources in the shop.
Type of work:The tools you'll need depend on the project's demands. Coarse grits and power sanders are better for removing lots of buildup, while handheld sandpaper sheets and buffers are excellent for detail work. Some sanders have multiple speed settings for different levels of sanding intensity, which you can also consider if you want a versatile tool.
Project materials:Think about the shape and material of the objects you'll be sanding and choose a sander that can get the job done. If you're doing large surface-area work, power sanders might come in handy, whereas detailed work in hard-to-reach places might require the use of handheld sandpaper in different grit levels.
Ergonomics: Workers regularly use handheld sanders, so it's essential to invest in tools that are comfortable to hold and work with for long periods. If you can, test out different sanders and abrasives before purchasing.
Where to Buy Top-Quality Abrasives
National Abrasives, Inc., is a leading supplier of a wide range of automotive sanders and abrasives. As an authorized dealer of Mirka, SIA and several other trusted abrasive brands, we pride ourselves on being a family-owned and -operated commercial abrasives supplier for over 20 years.
When you purchase products from us, you'll benefit from our competitive pricing, fast shipping, discounted bulk ordering options and high-quality customer service. You can also request free samples to evaluate products and make informed purchasing decisions. Your satisfaction is our top priority.
Our website makes online shopping easier than ever, with an extensive inventory of several trusted brands offering the highest-quality products for a range of projects and materials.
Any purchase receives free shipping. And, check out our closeout deals and specials for even more value as you search for the best products to use in your business.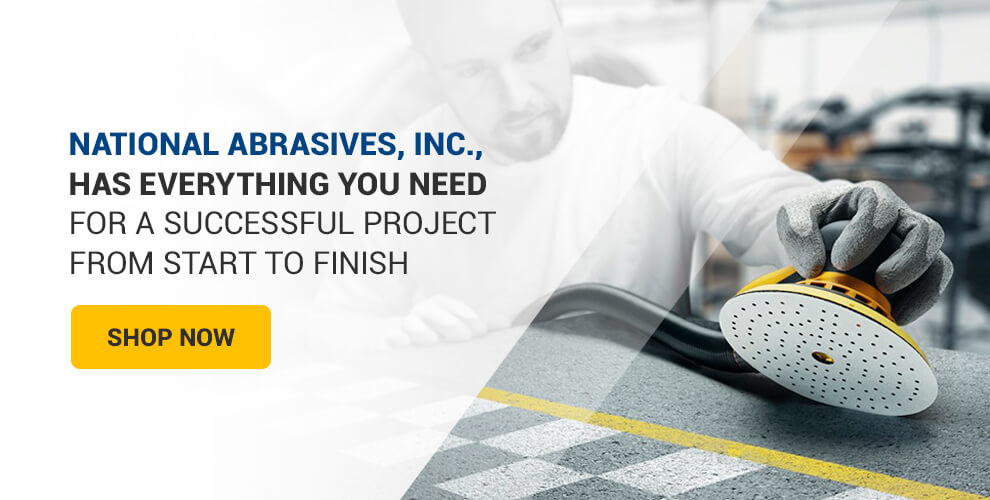 Contact Us About Automotive Sanders and More
National Abrasives, Inc., has everything you need for a successful project from start to finish. Browse our extensive collection of sanders, buffers, abrasives and polishers and take advantage of our competitive pricing. Whether you're searching for new power sanders or replacement sandpaper, we have the tools for you.
Our team is here to help you find the right sanders and abrasives for all your automotive refinishing and repair needs. With our friendly and helpful customer support, you're sure to find what you're looking for.
Looking for products to make your business shine?Contact National Abrasives, Inc. today for more information and to place your order!